Essay via Eric Worrall
Dr. Willie Quickly emailed me the curious case of an editor of the magazine Local weather it sounds as if being investigated via NASA GISS director Gavin Schmidt, for publishing Quickly's learn about.
The cause for this request can have been contemporary research lined via WUWT, which highlights the likelihood a lot reported international warming is also city warmth island impact.
There were some fairly intense exchanges of concepts because the papers have been printed. Dr. Gavin Schmidt wrote a critique on actual local weather, wherein Gavin accused Dr. Willie Quickly of being a "crowd pleaser", and of the usage of out of date Sun knowledge.
Quickly answered to this critique, via accusing Schmidt of elevating straw guy objections, and urged Schmidt is taking too slender and simplistic a view of sun TSI reconstructions.
In the middle of this fairly heated debate, Schmidt introduced a FOIA motion to analyze whether or not any workers of the Federal Govt used govt time or assets to correspond with Dr. Willie Quickly, and different authors of the debatable research. It's notable that Dr. Schmidt used his college account, and despatched the FOIA request on Sunday – "Federal workers would possibly not use govt time or apparatus when asking for knowledge beneath the FOIA.". Schmidt can have realized from final time his hat juggling, switching between performing as an impressive govt authentic and a non-public individual, were given somewhat messy.
The final line of Schmidt's FOIA request is a watch opener: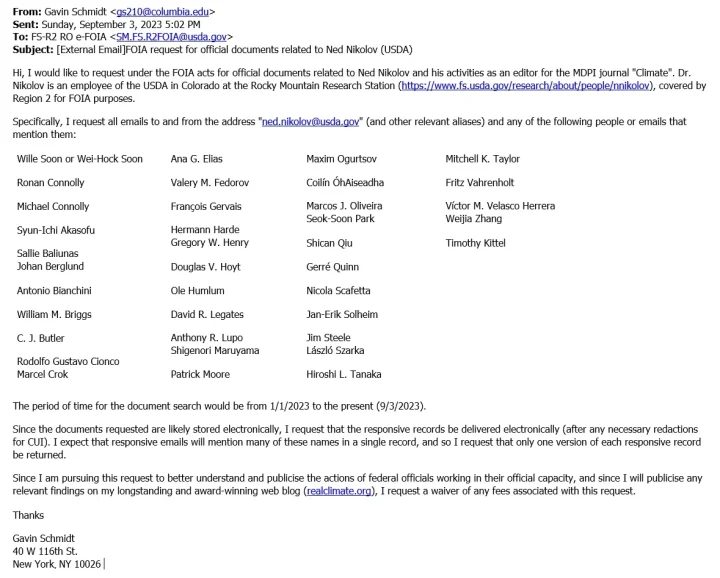 "Since I'm pursuing this request to raised perceive and publicise the movements of federal officers running of their authentic capability, and because I can publicise any related findings on my longstanding and award-winning internet weblog (realclimate.org), I request a waiver of any charges related to this request."
It will be a tragedy if this FOIA request, and the mentioned aim to "publicise the movements of federal officers" indicators that Dr. Gavin Schmidt is following the footsteps of the worst alleged abusers within the Climategate emails, via placing drive on magazine editors and federal workers who cooperate with the manufacturing of research he doesn't like.
I'm now not announcing that is what is occurring, however I believe given the unsightly historical past of alleged bullying within the box of local weather science which used to be printed via Climategate, a whole rationalization of Dr Gavin Schmidt's intentions is so as.
Comparable